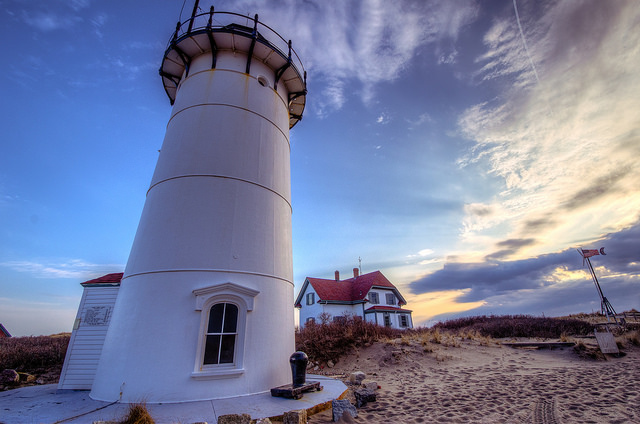 A Beacon of Light: 3 Cape Cod Lighthouses You Can't Miss
Don't miss these amazing lighthouses during your trip to Cape Cod. 
New England is well known for its abundance of lighthouses up and down the coast.
In fact, there are almost 200 lighthouses along the hundreds of miles of coastline. Several of these beacons of light were built more than 100 years ago, the oldest of which was erected in 1716: Boston Light.
Touring these lighthouses is a must for any maritime history lover. Not only will you get to see these incredible monuments to seafaring life and the safety of many sailors, both past and present, you will also be treated to incredible views of beautiful beaches, craggy cliffs, and expansive oceans. It's easy to feel small when surrounded by such magnificent beauty and long-standing history.
Cape Cod is home to 14 different lighthouses, some of which are still open for tours. If you've never had the pleasure of visiting Cape Cod or the chance to see a lighthouse in person, we've put together a list of four fantastic lighthouse excursions that you simply must enjoy!
Race Point Lighthouse
Provincetown, MA
This particular lighthouse excursion is perfect for the true lighthouse enthusiast as well as those that haven't decided where to stay. With overnight accommodations on the grounds, you can immerse yourself in the true Cape Cod lighthouse experience.
Just imagine how relaxing it will be to sit on the beach with your toes in the sand before heading up to your comfy and cozy room. After a good night of sleep you can wake early and spend the following day touring the lighthouse and grounds.
The only negative about listing the Race Point Lighthouse first is that their touring season doesn't start until June.
However, now is a good time to make your reservations at the on-site bed and breakfast, since rooms are generally scarce due to demand. The good news is that the tours are free! We definitely recommend making a donation, though, as they go towards the upkeep of such a historic monument.
Chatham Lighthouse
Chatham, MA
The Chatham Lighthouse was originally constructed in 1808 and, at the time, was just the second lighthouse on Cape Cod.
To set it apart from the first Cape Cod light, the Chatham was built with twin wooden towers. This is why it was known as Twin Lights until 1923 when one of the towers was moved several miles north, which then became the Nauset Light.
You will be amazed by the rich history surrounding the second oldest lighthouse on Cape Cod.
Tours are only offered during the season and at First Night, so you'll have to wait until summer to get the full experience. However, you can still enjoy the view and meet the seafaring folk that live nearby as you stroll down Main Street on your way to the lighthouse.
One interesting fact about the Chatham light is that it is now an active US Coast Guard station has played hosted many search and rescue, maritime, law enforcement, and Homeland Security missions.
Highland Lighthouse
North Truro, MA
Reopening this spring, the Highland Lighthouse offers grounds and lighthouse tours as well as a museum and keeper's shop to visit.
The tour itself will take you up a steep and narrow staircase but the view once you arrive is well worth the climb. A few things to know before joining one of the 20 minute tours is that the group sizes are kept to less than 12 people at a time and children and adults must be over 48" to participate.
Once you've made it to the top, be prepared to take in a breathtaking view of the ocean and beach below. Don't forget to take your camera so you can relive the beauty once your trip is over.
Cape Cod is filled with the rich maritime history that made this area what it is today.
The lighthouses were an integral part of the success and safety of all those men and women at sea. What better way to celebrate that history by taking a tour of these beautiful landmarks? Make it an extra special trip by booking a car service like White Tie for the duration of your stay. We'll take care of the driving so you can sit back, relax, and enjoy the view while also focusing on your family instead of the road ahead.
Photo Credit: m01229
The following two tabs change content below.


Latest posts by Tim Kelly (see all)