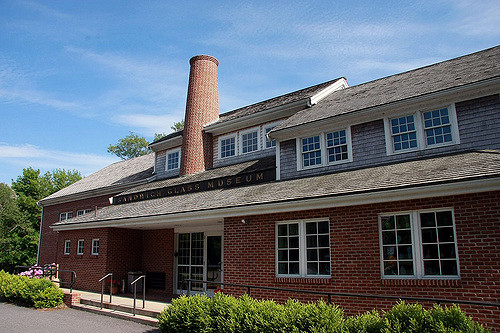 4 (More) Amazing Springtime Events on Cape Cod
We've decided to expand our list of springtime events on Cape Cod with this additional list, full of more to do and more to see.
Whether you're a longtime resident of the Cape or are planning a special trip for springtime, these activities are perfect for the whole family.
Sandwich Glass Museum
129 Main St
Sandwich, MA
If you've ever wondered how those vases, bowls, and various other glass pieces were made, head to Sandwich, MA to the Sandwich Glass Museum.
Here, not only will you learn about the town's history, but the impact the glass industry has had on the town as well. For just $9 for adults and $2 for kids aged 6-14, you'll be able to take a tour of the museum, take in different exhibits, and even watch glassblowing in action.
Cape Cod Children's Museum
577 Great Neck Rd
Mashpee, MA
Being stuck in the house all winter with small children can wreak havoc on the nerves of even the most patient of parents. One of the best ways to venture out with a car load of kids while still retaining your sanity is to take them to the Cape Cod Children's Museum.
With more than 20 interactive exhibits and activities, your kids could feasibly spend the entire day learning and having fun. They can check out a pirate ship, virtual submarine, or participate in the weekly programs offered that teach science, music, and so much more.
Cape Cod Winery
4 Oxbow Rd
East Falmouth, MA
The first two activities we mentioned are geared more towards the whole family while this particular springtime activity will strictly be for the adults.
The Cape Cod Winery has been producing high quality wines for quite some time now. Take a day away from the kids to tour the vineyards and winery before sampling some of their tasty offerings. The beautiful surroundings and premium wines will make you feel as though you've been transported to the finest vineyards in Europe.
Classic Aviators
12 Mattakesett Way
Edgartown, MA
Do you love the feel of wind in your hair? Have you wondered how you could add a bit more excitement to your life? Do you want to give your kids a memory they won't soon forget?
Classic Aviators in Edgartown offers biplane rides in their vintage planes so you can take in sights on Martha's Vineyard Island like Edgartown Village, Aquinnah Cliffs, and different lighthouses. This is a fun and unique way to experience the beauty of the Cape while also indulging yourself and your kids with an experience unlike any other.
Transportation for Your Trip
One thing you may want to consider is reserving a Cape Cod car service for the day. This is an especially good idea for those that aren't familiar with the area.
You can sit back and focus on your company for the day while the professional driver pays attention to the road. No worrying about getting lost, no worrying about hunting a parking spot. Just a day filled with fun, family, and friends on a beautiful spring day in Cape Cod.
Photo Credit: Bruce Tuten
The following two tabs change content below.


Latest posts by Tim Kelly (see all)