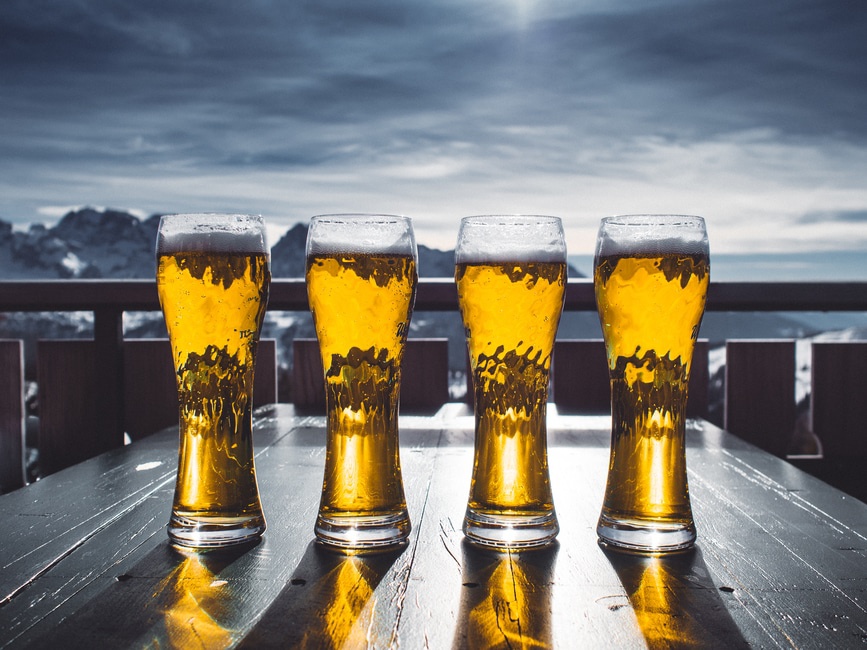 7 Cape Cod Breweries You Have to Visit
Summer is the perfect time for sitting outside, taking in the sunshine, and enjoying an ice-cold beer. For those of you visiting or living near Cape Cod, you have plenty of options for delicious local beers, brewed with precision.
Why not get your friends together and plan a tour of some of Cape Cod's best breweries this summer? White Tie Luxury Transportation has the vehicles and the chauffeurs to make the day enjoyable; all you have to do is assemble your group and choose the breweries you'd like to see!
We've made a list of some of the absolute standout breweries on (or near) Cape Cod to give you inspiration.
Cape Cod Beer
1330 Phinneys Lane, Hyannis, MA
Since its inception in 2004, Cape Cod Beer has grown by leaps and bounds. They have a variety of regular and seasonal beers. They also offer tours and access to a tasting room.
Some of their most famous beers include their IPA, their Porter and their Beach Blonde. They also specialty beers like the Dunkel Weizen and the popular Stargazer Stout.
You can visit their Tasting Room, where for $5, you can enjoy five 3 oz. samples of some of Cape Cod Beer's best selections.
Mayflower Brewing Company
12 Resnik Road #3, Plymouth, MA
Mayflower's beer is a mix of permanent fixtures, like their ever-evolving Evolupulin IPA or their popular Golden Ale.
They also offer seasonal beers, like their Summer Belgian Session Ale or their Autumn Wheat Ale.
Visit the brewery for a tour or a tasting, and when you're finished, head to the shop to peruse their assortment of souvenir glasses and Mayflower Brewery-branded gear.
Offshore Ale Company
30 Kennebec Avenue, Oak Bluff, MA
The Offshore Ale Company is special in that its location combines a restaurant with a brewery.
The Offshore Pub serves up meals every day between 11 AM and 4 PM for lunch and 5 PM and 8 PM for dinner.
As for their beer selection, there's always something new on tap, with a rotation of around 20 craft beers available every time you visit. Stop in for some true New England craft beer and a meal you'll remember.
Bog Iron Brewery
33 West Main Street, Norton, MA
Bog Iron Brewery, established in 2011, is quickly becoming one of the most popular breweries in New England.
Their taproom features a number of different specialty beers, including the Golden Ale, the India Pale Ale, and the Cease and Desist (a California Common).
Head to the Bog Iron Brewery to sample a number of genuine craft beers from New England.
Blue Hills Brewery
1020 Turnpike Street, Canton, MA
Head to Blue Hills Brewery in Canton on Friday or Saturday to interact with the staff, enjoy a complimentary beer tasting, and learn how they make their ever-popular selection of beers.
Some of the selections you can sample include the Blue Hill IPA, seasonal favorites like the Dunkelweissen, and the Three Peak Imperial Stout.
In their shop, you can purchase Blue Hills merchandise, too.
Cisco Brewers
5 Bartlett Farm Road, Nantucket, MA
Since its inception in 1995, Cisco Brewers has increased in popularity and is now considered a quintessential stop for beer and wine lovers in Nantucket.
Some of the beers you can sample during your trip to Nantucket including Cisco Brewers' Island Reserve, the Whale's Tale IPA, the Grey Lady Ale, and the Shark Tracker Lager.
British Beer Company
85 Providence Highway, Walpole, MA
The British Beer Company is a pub and draught beer destination, with traditional British pub food and an impressive variety of British beers.
Some of the current draught options include Fullers London Pride, Fullers Porter, and Monty Python's Holy Grail Ale.
Don't Forget the Transportation
One important aspect of any pub crawl or brewery tour is transportation.
You don't want to miss out on the delicious beers because you're the designated driver. There's no fun in that.
Organizing transportation that you can trust, that allows everyone to enjoy the beers on tap, is the answer.
White Tie Luxury Transportation is Cape Cod's premiere provider of transportation services, and we specialize in brewery tours.
We have a fleet of vehicles ranging in size from sedans to multi-passenger limo buses; whether your group is small or large, we can accommodate and serve you better than any ride-sharing company or taxi service can.
Not only can you enjoy a beautiful vehicle during your brewery tour, you'll enjoy trustworthy service from one of our many chauffeurs.  Each of our chauffeurs is carefully selected based on a number of qualifications, including background checks and drug testing. You won't have to worry about getting lost or worrying about your driver's qualifications. We've taken care of that for you.
Plan your Cape Cod brewery tour with the added security of great transportation.
Request a quote from White Tie today!
The following two tabs change content below.


Latest posts by Tim Kelly (see all)