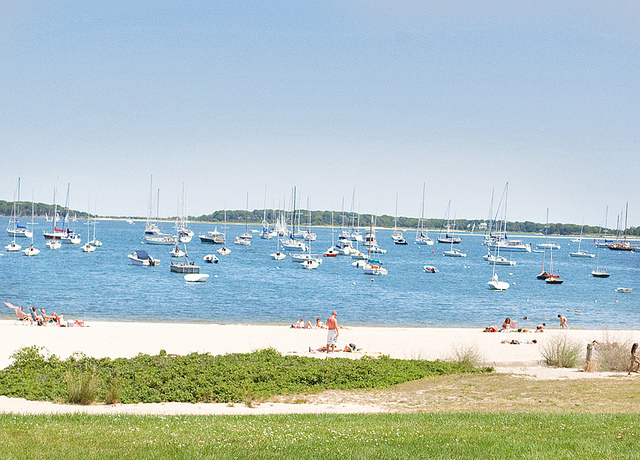 5 Things You Simply Can't Miss on Hyannis Port
This blog was originally published in 2015; we have since updated it to reflect the most accurate and relevant information possible. 
The next time you're planning a vacation to Cape Cod, you may want to consider Hyannis Port as centerpiece of your trip.
Hyannis Port is a beautiful little village located in Barnstable, MA, most famous for being the home of the Kennedy Compound.
It's the perfect spot for a historic retreat or a great family vacation.
Even though Hyannis Port isn't that large, there are still plenty of things to see and do while you're there.
Check out White Tie Transportation's favorite Hyannis Port attractions.
John F. Kennedy Memorial and Museum
397 Main Street, Hyannis, MA
With free parking, you can visit this memorial for arguably one of the most memorable presidents in history. The park itself is beautiful and gives an incredible view and access to the beach. After you walk through the memorial you can also take a walk on the beach and collect shells to take home as a souvenir.
Afterwards, make sure to stop into the museum for a little taste of history.
Hyannis Main Street
While you're in town, make sure to take a leisurely stroll through this quaint Cape Cod town. There are lovely shops to stop in as well as a few restaurants to enjoy a meal.
Sometimes you can even catch a few street entertainers for a bit of amusement along the way.
Bay Spirit Tours
180 Ocean Street, Hyannis
You can't stop into Hyannis Port without taking a boat out on the water. If you're visiting without your own boat, let Bay Spirit Tours take care of that for you.
For a reasonable rate you and the family will enjoy the feel of the wind in your hair while taking in the beautiful beaches.
You can also hear informative and interesting tidbits of information about Hyannis Port.
For couples, consider taking the sunset cruise for a romantic glass of wine and relaxing trip around the bay. They also charter their boats for weddings or other events as well, so that may be something you want to keep in mind if you're traveling for your anniversary or birthday.
Golfing
Hyannisport Club, one of Cape Cod's premier golf clubs, calls this lovely little village home. However, it's a private club.
So, unless you're prepared to join up for a hefty fee, you may want to consider the other golfing options. You can head to Hyannis Golf Course or Twin Brooks Golf Course for a day out on the green. Both are beautiful spots and offer relaxing and challenging holes for the golf pro in you.
Fishing Trips
Since this is a harbor town, it would almost be a sin to not go fishing while you're here.
There are a few different captains and boating companies that offer their vessels for your fishing trip.
This is a fantastic idea for a group of men in town for a bachelor's party. After a game of golf at the renowned course mentioned above, they can head out on the water and catch their dinner for the night.
Notable Dining Spots
Lucky for your appetite, there are plenty of incredible restaurants in this tiny little oceanside town.
+ If you're in the mood for seafood (and in Cape Cod, who isn't?), then head over to Sea Street Café.
+ For the kids, head over for a slice of delicious pizza at Pizza Barbone.
+You can even appease the red meat lover in your family with some phenomenal Brazilian fare at the all-you-can-eat Brazilian Grill.
This is just a small taste of the amazing activities available to you and your family on Hyannis Port.
From the shopping, restaurants, and outdoor activities to the beautiful natural sights and great accommodations, Hyannis Port is the ideal spot for people of all tastes.
Consider booking transportation with the premiere provider of car service on Cape Cod and beyond: White Tie Transportation.
Contact us today to learn more about our services.
Photo Credit: cgbrfx123
The following two tabs change content below.


Latest posts by Tim Kelly (see all)