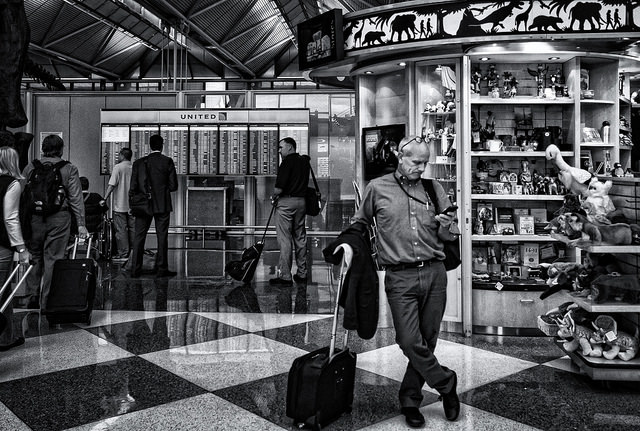 5 Tips for Better Summer Travel
Summer travel can be a hassle, especially for those who struggle with the heat.
1. Arrive at the airport early.
Take the guesswork out of navigating the airport.
Arrive early so you can find your terminal, get through airport security and relax before your flight departs.
When it comes to travel, it's always better to err on the side of caution, and arriving at the airport early ensures you can avoid missing your flight. Plus, you can minimize your stress if you encounter long lines or other delays along the way, as you'll have plenty of time to spare.
2. Pack your own snacks.
Unfortunately, airport food can be expensive, and food options are sometimes limited.
Travelers who pack their own snacks and can save time
Packing your own snacks is great for business professionals who want to eat healthy, too. It often can be tough for travelers to make healthy choices, but packing low-calorie snacks ensures executives can stick to their diets.
So what are some of the best snacks to bring on flights?
The Kitchn offers the following recommendations:
+Avocado slices
+Apple slices
+Clementines
+Crackers and cheese
Snack smart during your business trip, and you can stay healthy this summer.
3. Use TSA Pre✓.
TSA Pre✓ is ideal for executives who want to streamline their trips through airport security checkpoints.
With TSA Pre✓, you can skip the long airport security lines and reach your flight without delays or interference.
For many travelers, getting through airport security is rarely simple.
This option ensures you won't need to remove your shoes, belt or jacket at airport security. It shortens your overall time spent in security.
Find out whether TSA Pre✓ is available before your next business trip.
4. Choose the Carry-On Only Life
Checking bags is a step that can, and should, be avoided if you can.
For most airlines, the standard size for a carry-on bag is 22 inches tall and 14 inches wide. This size ensures that you can fit your carry-on in the overhead bins without trouble.
You can also carry a personal item, like a purse or backpack, to maximize your storage space without needing to check a bag. Your personal bag should be no taller than 17 inches and no wide than 10 inches. This could also be a shoulder bag or laptop bag, if you're traveling for business.
Opting to be carry-on only during your trip will save you time (you won't have to stand in line at baggage check) and money (you won't have to pay the outlandish fees for checking a bag).
5. Make travel reservations to get to the airport.
If you drive to the airport, you'll need to give yourself plenty of time due to possible traffic and weather delays.
Driving to the airport can be challenging. With a car service, you won't have to worry about finding parking or hustling from your parking spot to your gate.
By booking a trip with a car service, you can reach the airport quickly, comfortably and in style.
For example, White Tie Limo provides luxury transportation in Cape Cod and Martha's Vineyard. It also offers a deluxe vehicle fleet that includes:
+Lincoln Town Car sedans – Each of White Tie Limo's Lincoln Town Car sedans can comfortably accommodate up to four passengers. In addition, these sleek vehicles feature a shiny black exterior and a clean, smooth black interior.
+SUVs – For medium-sized groups, White Tie Limo provides luxury SUVs that are designed to comfortably accommodate up to seven people.
+Stretch limousines – If you're looking for a stylish, sophisticated 6-passenger limousine to pick up business associates at an airport, White Tie Limo offers a variety of stretch limousines to fulfill your travel needs.
+Luxury vans – Luxury vans offer seating for up to 13 and 14 passengers and are equipped with TV/DVD entertainment and Wi-Fi access.
+Mini coaches – Great for corporate travel, White Tie Limo's mini coaches allow you to travel with larger groups in comfort and style.
Contact White Tie today to learn more about our airport transportation services to make your reservation.
The following two tabs change content below.


Latest posts by Tim Kelly (see all)