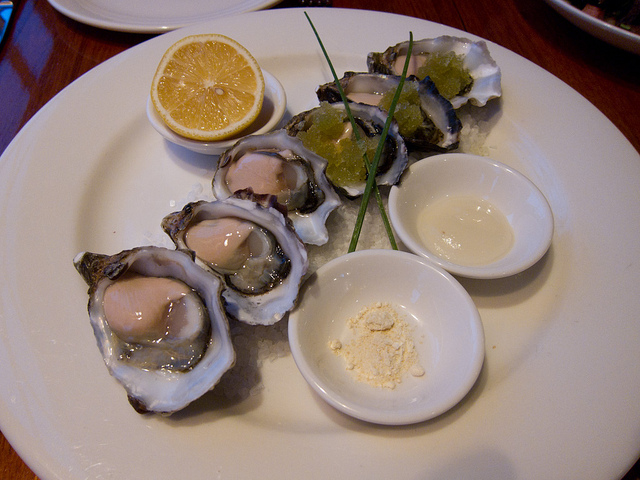 Cape Cod Car Service and Amazing Restaurants
6 Great Restaurants Around Cape Cod
The thing about planning a destination vacation is – once you get to your destination, you want to go out again to go exploring.
If you're planning a vacation to the Cape Cod area, or the surrounding islands, you'll find no shortage of amazing nightlife spots and things to do.  Below is a list of a few of the best restaurants that the area has to offer, and we hope you'll consider White Tie Limo for all your luxury transportation needs to and from whatever restaurant you choose. Bon appetit!
Located in tony Hyannis, Naked Oyster has a menu that is a seafood-lovers dream, as well as a 20-person private wine cellar where your private party can enjoy a delicious meal together. The mouth-watering selections at this relatively new fixture on the Cape include: Swordfish Steak Niçoise, Wild Jumbo Thai Shrimp and of course locally sourced Cape Cod Lobster.
Voted Best Fine Dining Restaurant in the Mid-Cape by Cape Cod Life Magazine, the Roadhouse Café has been around for over 30-years and is a favorite with locals and visitors alike. With a menu that runs the gamut from seafood to beef, poultry and pork, there's something for everyone. For those not venturing all the way out to Provincetown, the Roadhouse Café is an excellent option.
Doubling as a French bakery and a new American-style bistro dining room, this Chatham mainstay is a good place to sample a tasting menu paired with a local wine or sample a gourmet entrée. Try the tuna tartare, it's to die for!
Located in Provincetown, this downhome, cozy bar and grill offers affordable and tasty pub treats as well as an extensive list of wines by the glass. If you're in the mood for casual, classic American bar food with a Cape Cod touch (think crab cakes and oysters), then this is the spot for you.
Ocean House restaurant, located in Dennisport, offers up fresh fish and sumptuous seafood along with a view of Hyannis Bay that simply can't be beat. If you're looking for the quintessential waterfront Cape Cod dining experience, look no further. Of course, if you're headed there in the summer months, make sure and book far in advance as this restaurant is sure to be very busy.
It really doesn't get more quaint and rustic than the Red Pheasant, a celebrated Cape Cod institution that serves delicious French-inspired cuisine in a rustic barn in Dennis, on the north side of the Cape. The 19th century digs feature an outdoor garden and fireplace and the menu has classic comfort food like the Grilled Angus Sirloin Steak and the flourless Chocolate Cake that's to die for.
If you're thinking of dining out on the Cape, consider hiring White Tie Limo to drop you off and pick you up at your destination. A ride with White Tie Limo means that you and your party will arrive in comfort and in style and can enjoy your evening without the hassle of parking and directions. If you're new to the area this is particularly useful, since you will not have to navigate the inevitable traffic jams that these popular spots usually attract. Check out the rest of our website to learn more about how you can book transportation with White Tie Limo and we promise you'll be glad you did.
Photo Credit: Charles Haynes
The following two tabs change content below.


Latest posts by Tim Kelly (see all)