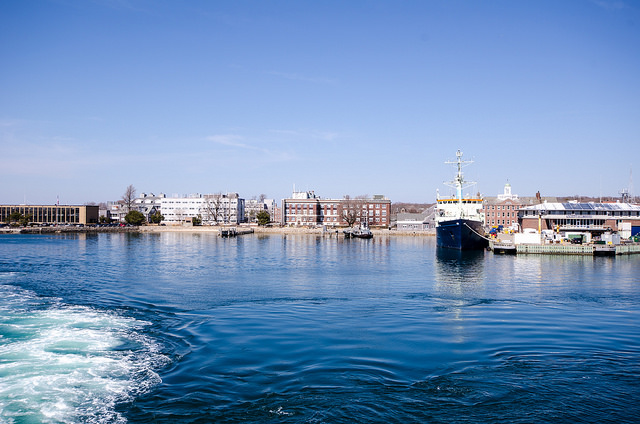 Planning a Fall Weekend Escape to Cape Cod
Autumn in New England: Perfect Additions to Your Trip
What's not to like about the fall season? You get the warm days with the cooler nights. The leaves are changing into the most stunning colors fit for a painting. The kids are in school and football season is in full swing. Halloween is right around the corner and all you can think about is what costume you and the kids are going to wear this year. Spending a fall in Cape Cod is something special that should be experienced by everyone at some point in their lives.
If you're looking to spend autumn in the New England area, we've put together some of the best ways things to do during your weekend escape to Cape Cod.
Annual Harwich Arts & Music Cranberry Festival
If your weekend jaunt to Cape Cod happens to fall on September 19th and 20th, you should head over to the Sixth Annual Harwich Arts & Music Cranberry Festival. Held in Brooks Park at the Harwich Center, this free festival is an excellent way to surround you and your family with culture, arts, and fantastic music. There will be food, arts and crafts, and fun for the whole family. If you're close to the area, the Saturday before, on the 12th, will be a fun beach day for all ages at Red River Beach. With games, races, face painting, and even sand sculpture contests, you and the kids will be entertained for hours!
Celebrate Our Waters
Put together by the Orleans Pond Coalition, the sixth annual Celebrate Our Waters event will be held on September 18th through the 20th this year. Although it originally started out with just a few guided walks along the waterways in Orleans', it has since expanded to the festival it is today with bike rides, tours, kayak trips, cat boat sailing, and so much more. You can even cozy up by a bonfire on Nauset Beach for a Cape Code experience that everyone should have. Come out and show your support for the beautiful water features that surround us.
Truro Treasures Weekend
For a weekend filled with history, education, and plenty of fun, the Truro Treasures Weekend is perfect for a family that wants to learn while they have a good time. The festivities start on September 18th and run through Sunday, the 20th. You'll find events like a 5k run/walk, antique and classic car show, arts and craft shows, flea market, dog show, and even a pancake breakfast. All of these events will lead up to the closing event: a grape stomp and jazz festival. While most of these events are free, any funds raised will be given back to different non-profit organizations in the area.
Cape Cod Brew Fest
Since we've already given you three different events to choose from during the same weekend, we don't want to make it even more difficult to pick which one to attend. Lucky for you, the Cape Cod Brew Fest is held on Saturday, September 26th at the Barnstable County Fairgrounds in Falmouth, MA. Beer lovers will be inundated with samples from more than 75 different breweries and over 250 styles of beer. There will be live music, food trucks, and other vendors to purchase from during the event. All attendees and ticket holders ($45 for drinkers; $15 for designated drivers) will receive a custom glass. This is a 21 and up event only, so you'll have to leave the kiddos at home for this one!
There is so much to do this fall season in and around Cape Cod that the hardest part will be deciding which event to enjoy.
No matter which festival you attend, or even if you choose to forego them all and just enjoy the surroundings, make sure to call White Tie Luxury Transportation so we can take care of all your transportation needs.
We'll take you to and from the airport, carry your bags, and give you pointers on the best events, restaurants, and shopping spots to see while in town. Our knowledgeable drivers can add to your Cape Cod weekend escape and make it a mini-vacation to remember!
Photo Credit: m01229
The following two tabs change content below.


Latest posts by Tim Kelly (see all)