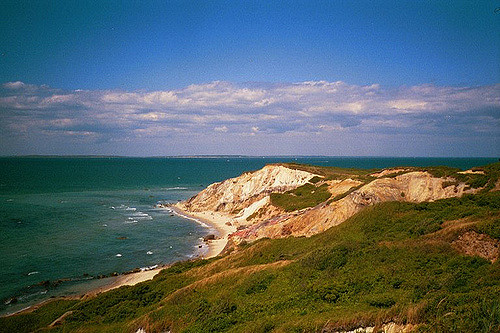 It's Never Too Early to Start Planning Your Trip to Martha's Vineyard
We are officially in the first days of spring, even though the thermometer might read like it's still winter.
Even though warm weather is still just a theory, you can still find occasion to start planning that upcoming warm weather vacation you've been dreaming about.
If Martha's Vineyard has been calling your name throughout the colder months, you'll be glad you started your planning now. Considering the steady popularity of this beautiful area as a vacation spot, if you don't get a jump on those plans now you may be out of luck!
There are a few things you should always book in advance when planning a trip to Martha's Vineyard and we're here to help you out!
Hotel Accommodations
As we've mentioned above, the nation's elite have long been migrating to Cape Cod for their spring and summer getaways.
The incredible weather and stunning surroundings ensure this will be the case for years to come.
One of the greatest things about Martha's Vineyard is that the lodging accommodations available are positively charming.
Some of the options?
+Mansion House Inn on Martha's Vineyard
These aren't the usual chain hotels you'll find in other cities.
Instead, you'll find beautiful historic homes that have been converted into hotels and bed and breakfasts. There are also plenty of homes that are rented out by their owners during this time as well. You'll have plenty of options to choose from, but that doesn't mean you should wait!
Things to Do
Just because it's small doesn't mean Martha's Vineyard doesn't have plenty of activities and things to do for the whole family.
You don't want to wait until you're there to start deciding on what to do, where to go, and what to see.
Some of the options?
However, you don't want to miss out on the opportunities to take in nature and wildlife tours, stroll through a wildlife sanctuary, visit museums, tour breweries, and check out some of the lighthouses for which this area is famous.
Once you've decided which activity options are best for your family, make it a point to put it in your calendar now.
Call in advance to check the hours of operation to see if they have any dress code rules or packages available that could save you time and money. If you wait until you're already in town, you could end up missing out on amazing opportunities due to odd hours or being inadequately dressed or prepared.
Transportation
One thing you may not have considered when planning your trip to Martha's Vineyard is how you're going to get around town. While renting a car or taking a taxi in from the airport seems like the prudent thing to do, those options will actually only bring you stress and added charges once you turn that rental car back in.
Instead of relying on the unreliable, give White Tie Limos a call and let us take care of your vacation transportation needs.
Calling us well enough in advance of your trip will ensure we are able to provide you with the vehicle your family needs as well as providing you with the world class service we have come to be so proud of.
Don't wait until the last minute to take care of your vacation plans to Martha's Vineyard. Make the most out of your trip and start working on making it the best Cape Cod trip you and your family will ever have!
Photo Credit: normannack
The following two tabs change content below.


Latest posts by Tim Kelly (see all)