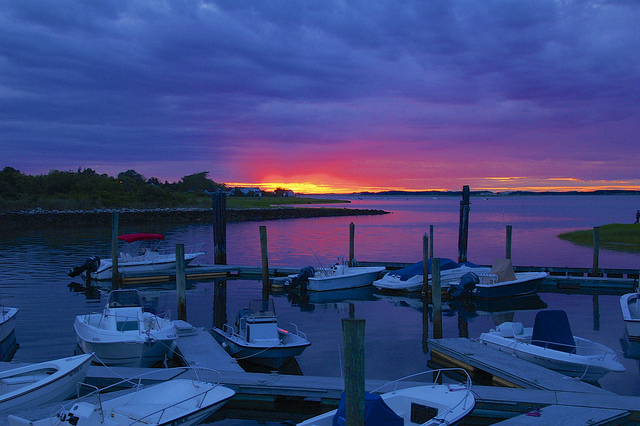 The Best Bed and Breakfasts on Cape Cod
Warmer weather is finally here and that means it's time to start planning a weekend getaway to Cape Cod.
If you've never had the pleasure of visiting Cape Cod, now is the time!
One of the best things about planning a getaway to the Cape is the ability to stay in a bed and breakfast. Instead of the usual and impersonal hotels that can be found anywhere around the country, the B&Bs in Cape Cod add an extra special touch to your vacation plans.
When you finally get the opportunity to plan a trip to Cape Cod, we hope you will consider one of these bed and breakfasts for your overnight stay.
Liberty Hill Inn
77 Main St
Yarmouth Port, MA
Imagine driving up to a beautiful historic home that sits right on the water before walking into beautifully appointed rooms that scream comfort and class. At the Liberty Hill Inn in Yarmouth Port, your every need will be attended to by Innkeepers John and Kris.
You'll have access to concierge services from 9am until 9pm and be treated to high quality sheets, bath products, and in-room amenities like secure wireless Internet and a TV and DVD player. After staying here, you will definitely want to come back again and again!
Captain David Kelley House
539 Main St
Centerville, MA
Often described as absolute perfection, Captain David Kelley House is like the quintessential Cape Cod bed and breakfast. Innkeepers Tom and Rick have an incredible eye for detail and are rightfully proud of the accommodations and services they offer.
The centrally located inn is just a half mile from the beaches of Nantucket Sound as well as everything else in Cape Cod. Not only will you enjoy a relaxing stay but you'll also be treated to a delicious scratch-made breakfast every morning.
Roux
210 Bradford St
Provincetown, MA
For something completely different, we recommend Roux in Provincetown. This isn't your everyday bed and breakfast and it's certainly not what one would expect from Cape Cod. Stimulate your visual senses with the bright colors, unique furnishings, and funky décor. Take in the whimsical atmosphere as you enjoy their hot plated breakfast or the Happier Hour happening daily with savory bites and wine.
In-room amenities are quite impressive as well and include free Wi-Fi, private bath and balcony, and so much more. For a stay you won't soon forget, we definitely recommend this unique option for your next Cape Cod getaway.
The Platinum Pebble Boutique Inn
186 Belmont Rd
West Harwich, Harwich, MA
With Kingsdown mattresses, comfy sheets, and luxurious bath products, it should come as no surprise that the Platinum Pebble Boutique Inn has been bestowed upon with several awards.
Innkeepers Stefanie and Mike will go above and beyond to make sure your stay is better than you could ever imagine. You can either sit back and relax amongst the tranquil surroundings or head out for a short stroll to the beach or a bike ride on The Rail Trail which is a mere 10 minutes away.
Any one of these bed and breakfasts will be great additions to your upcoming Cape Cod getaway.
You can improve your vacation even more by using White Tie for your transportation needs. Our professional drivers will help you with your bags, recommend sights to see, restaurants to enjoy, and make sure you never get lost.
Contact White Tie Luxury Transportation to learn more about our services or book your Cape Cod reservation today.
Photo Credit: Shiran Pasternak
The following two tabs change content below.


Latest posts by Tim Kelly (see all)