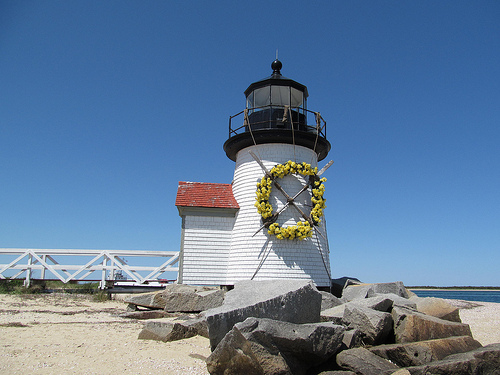 Your Cape Cod Wedding Contingency Plan
How to Plan a Beautiful Cape Cod Wedding, Rain or Shine
Most people tend to think of Mexico, Hawaii, or the Caribbean when planning their island wedding. While they are beautiful destinations for a beach wedding, there are some pretty incredible beaches and islands right here in our own backyard.
In fact, the Outer Cape is home to some of the most popular beaches in the country. There are quite a few islands off the mainland as well as the two popular islands to the south of Cape Cod. You may have heard of them? Martha's Vineyard and Nantucket? You would be hard pressed NOT to find a stunning venue for your wedding in this area.
No matter where you plan on having your island or beach wedding, there are a few things you'll need to take into consideration to make sure everything goes off without a hitch.
Timing is Everything
As in pretty much all of life, timing is everything. The same can be said about planning a wedding on Cape Cod. The beauty of the place has made it a popular tourist destination from spring until fall, so it's safe to say that it can get a bit crowded. Additionally, during the peak tourist months, the prices for everything will increase.
They say the best time to visit Cape Cod is during the months of April, May, October, and November, so consider scheduling your nuptials during this time frame. The weather will be ideal, you won't be bombarded by an excessive amount of tourists, and the wedding vendors won't price gouge you.
Hope for the Best, Plan for the Worst
While you may have this picture in your head about a clear blue sky the day of your wedding, Mother Nature doesn't always play by the rules. The best way to make sure your big day isn't ruined by rain is to plan ahead and have a functional, yet elegant tent set up on the property.
There are companies like UnderCover Tent & Party that not only provide a beautiful tent; they also provide the dance floor, lighting, chairs and tables, and even heaters. Some of their more inclusive packages will help you mark off a lot of your wedding planning checklist.
Permits and Insurance
While it may seem as simple as picking a place and saying your vows, there are actually quite a few legal steps you will have to take. For starters, once you've decided on the venue, head over to the city's town hall to check on the types of permits that will be required. They could be anything from tent permits to parking permits and if you try and skip this step, your wedding day could be marred by a police presence.
Another legal option you shouldn't skip out on is insurance. While some venues actually require it and often include it in their event contracts, if you choose to have it on your own property it can be easily added as a one-day rider to your existing homeowner's insurance policy. It's always nice to think that nothing will go wrong on your big day, but having that extra little bit of protection will cover you in the event anything bad does happen.
Parking and Transportation
As we mentioned above, some towns and venues may require a parking permit. Since a lot of private homes are often used as a wedding venue in Cape Cod, they aren't equipped to accommodate the amount of cars for all the guests. In this case, when reserving the bridal car you may want to ask about a few luxury vans and mini-coaches to deliver the guests to the venue after they've parked elsewhere.
Your wedding day should be one to remember, not just for you, but your guests as well. When you follow our island wedding contingency plan, your Cape Cod wedding should be quite the success and one that people will be talking about for years to come.
photo credit: Brant Point Lighthouse – Nantucket, Massachusetts via photopin (license)
The following two tabs change content below.


Latest posts by Tim Kelly (see all)